Dying with Food!
No people, NOT dying FOR food, although right now a snack would be nice. LOL
Yes I wrote, dying WITH food. As you know I like to dye my own fabric and usually I use Dylon brand cold dye to accomplish the task. It's not extremely color fast, but since I don't wash and re-wash my projects it's never been an issue. That said I am always interested to try new techniques for color dying fabric and I found one I hadn't thought of before on
Yuko's
site. Yuko left me a nice comment on my frame fiasco so I went to have a look at her blog and BEHOLD she was dying fabric with food products. In this case she was using curry powder, onion skins and tea. Not necessarily all at the same time, although it might create some interesting colors, not to mention smells. LOL, LOL
Now of course I had heard of tea dying and I had even tried it in the past with weak results, but never had I thought of using any other types of foods to dye with, least of all curry powder. I don't even eat curry. LOL But lo and behold I had some curry powder in my cupboards thanks to Greg. He bought it during one of his adventurous eating phases. And of course I had tea bags so I thought here's my chance to give it a try. So I did. And these are the results: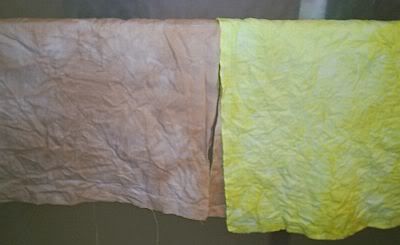 I LOVE the results! The tea dye is a beautiful antique brown and the curry came out a bright vibrant yellow. This color is perfect for a spring project! The trick to getting a nice bright yellow I found is HOT, SUPER HOT water. Same for the tea, the hotter the water the darker the color will be. That said I am now intrigued as to what other spices/foods would make nice vibrant colors. Next, I'm thinking PAPRIKA. LOL, LOL I'll let you know how it turns out. ;)
Now onto HOHRH. Hobby Lobby (the crafters mecca) was having a 50% off sale on open back frames so we went to check it out and here is what we found.
After checking out numerous frames and finally deciding that it would be best to scale down the project quite a bit, we went with an 18X24 frame. Greg recommended that I go with this one and I have to agree that it does make the colors of the project pop out. So this is it unless sometime down the road I find another "perfect" frame. Here is what it looks like on my wall: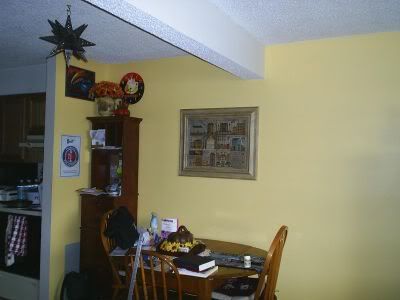 Thanks to everyone who commented about the other frame I am glad that I wasn't the only one that thought "great frame" but not great with this project. Ya, know I think my mom is going to LOVE that frame. LOL, LOL
Here's the latest progress on my travel project.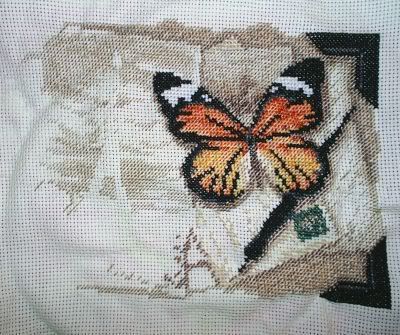 You can almost see the Eiffel Tower so it's getting close. Have to confess I am sick of stitching the same color in one and then two threads, not so easy on the eyes. But I'm almost done with that part and it looks great so it was worth it. :D
Hope everyone had a great weekend!