Fresh Coffee!
So in case you were wondering if I had dropped off the face of the planet, the answer is yes...sort of. I had a bad case of the flu all last week and a holiday on Monday and have been swamped since then. LOL
But I'm feeling better, which is great, but still swamped which is not so great...but surviving. SO I just wanted to do a quick post to show you what I've been up too. :)
I finished my butterfly project and got it framed. It looks pretty good, although I had some trouble with the fabric. It was very crooked and I had a hard time pressing it straight. But after fighting it a bit I did get it set the way I wanted. I am a bit disappointed with the colors. They aren't as light as in the package model and you can't see under the Eiffel tower the way you are supposed to. And I know that I got all the stitches right in this area, so obviously the threads weren't exactly the colors they should've been. But overall it looks pretty great. I did leave off a couple of effects that I didn't think were necessary (french knots) and I love how the backstitchng turned out. So here is the finished project: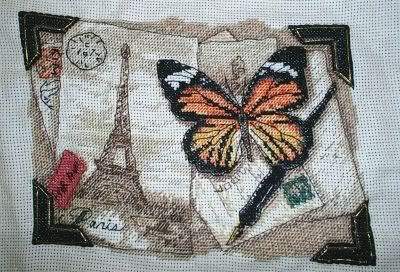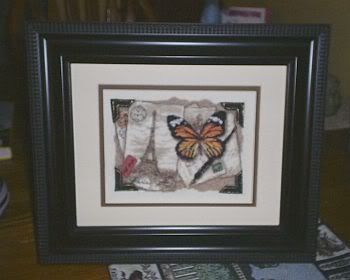 The mat I found for this was just want I wanted! It was a fun and challenging project, but not sure if I would buy a Dimensions kit again.
I also started on my next project. Hinzeit's Fresh Ground Coffee. I changed some of the colors and tea dyed my own fabric. So far I am LOVING this one. I always seem to love Hinzeit patterns they are so crisp and clean. And they go fast, as of now I have almost all the "Fresh" lettering done, although I don't have a pic yet to share.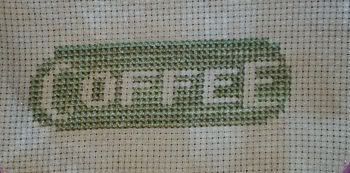 Greg has been working on Summer Snapperland and finished it last night. This is just a progress pic as I didn't have a chance to snap the finished project: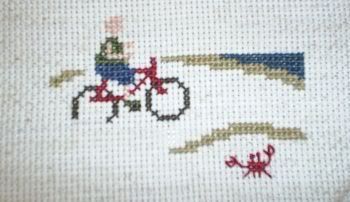 This is such a cute project, I love the little crab in the corner.
Yuko, if you are reading this, thanks again for the tips on tea dying. I tried it again this weekend and got FANTASTIC results. When I need a tan colored fabric in the future this is how I'm going to get it. Unfortunately some of my other food dying experiments didn't go as well as the curry, but no matter it was fun trying. :)
Hope everyone has had a great week!