Finding the Inspiration
I haven't gotten as much done as I would like but here's the latest updates.
Healing Hands is coming along nicely, although the border is going to take a bit of time.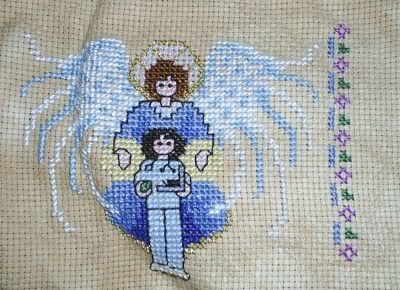 The backstitching really helped this one and the gold thread looks great. :D But I've never been a border fan and this one really needs it so I'm stitching it but it's slow going.
Here is a pic of Greg's Evangeline. I love this project.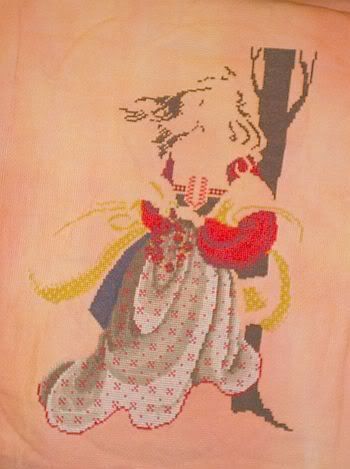 We were tormenting...I mean "playing" with the cat the other night and I got this shot of her. We put some Valerian root (similar to catnip) on her favorite toy and gave it to her, she went bonkers. LOL
She has her front paws wrapped tightly around her toy and look closely at her back toes they are splayed stiffly out, this means she is in cat ecstasy...her favorite spot on the bed, her favorite toy and some catnip, what else could a cat ask for? LOL
Now about finding the inspiration. After my last post a couple of you asked if I do my own framing and mentioned how I seem to frame so closely after finishing a project. First, yes I do all my own framing, no I don't use glass. I use plexi-glass or plastic. I get it custom cut at the local hardware store if I can't buy it pre-sized. It's cheaper and less prone to breakage than glass.
Finishing a project to me is the last step in a project. I don't start a project unless I have a finish for it in mind. Every project is planned out from the time I pick it up. I may not have the exact frame or fabric for the finish but I always know what I want to happen with it. That's why the house's frame was such a disappointment. I had planned that frame all along and then it just didn't turn out the way I wanted it too. SO I had to come up with a backup plan and it worked out but I would have been happier with Plan A.
I have a large collection of frames that we have picked up here and there during sales, but we also look for the unusual at flea markets and thrift shops. The frame that I used for my coffee project had a pre-made piece of art in it that was on a steep discount. I bought it popped out the art that I didn't want and put in my project. If you think outside the box you can find framing solutions just about anywhere.
I have found that framing is not that difficult and I am too cheap to want to pay a professional framer to do something I can do myself. Of course in my case I'm lucky to have a spouse that can cut mats for me, but I'm sure you could get the mats cut professionally a lot cheaper than having them do the whole job.
Also there are lots of ways to finish a project besides framing and most all of you have made some adorable pillows, needle holders or pin cushions out of your projects. Bottom line is don't be afraid to try framing it's not that difficult and you can find frames that are just as wonderful as the professionals use if you look around in unusual places!
Have a great week!