Where Has Time Gone?
Wow, it just seems like yesterday that I posted here, but it's been a whiiiiillllleeee.... Sorry about that, life interupted and all that. ;)
In the meantime Greg and I have been on vacation to Wisconsin and I leave on Friday for Africa (Senegal for those that like specificity). So before I go off to the hinterland I thought I'd share some vacation pics. I'd love to share stitching pics but...well...I don't have any. I just haven't been stitching much too many distractions. ;)
Our trip to Wisconsin was so Greg could visit the hallowed shrine of recumbent bike sellers that he worships whenever a catalog shows up at our door. He really wanted to buy a bike but let's be realistic, we have a Saturn and no bike rack, yeah that says it all.
Here he is pining away for a new bike: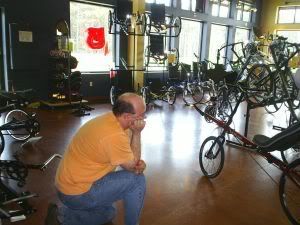 He did get to test ride a bike so he was happy. From the bike shrine we went back to La Crosse. I had never been there and I can say that it is a beautiful place. Here are some pics: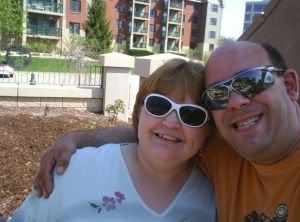 (Yes that is both of us.)
Then in our travels we discovered by happenstance "The Biking Capital of America" - no I am not making that up, that's what they call themselves, it's cute. It's Sparta, Wisconsin and they take bicycling very seriously. They even have a bike and aerospace museum in the old Masonic Temple. Yes I did say aerospace, it turns out that 2 astronauts are also from Sparta area. It was all quite fascinating and a lot of fun. We even got to see a hilarious 1963 bike safety video, I can not begin to describe the weirdness of that. But the people were *extremely* friendly and we thoroughly enjoyed it. Here's a pic of Greg with an astronaut replica:
His shirt says: Cleverly Disguised as a Responsible Adult (Yes I do go out in public with him, I know it's hard to believe. ;p)
And last but not least we hit every cross stitch shop we could find between here and there and let me tell you there aren't a lot of them. Here's our stash enhancement: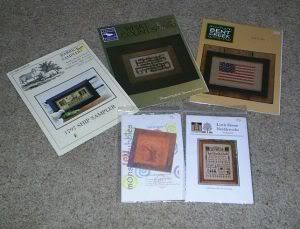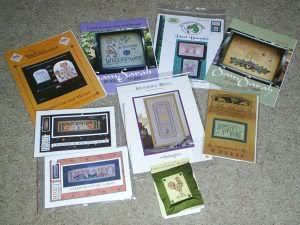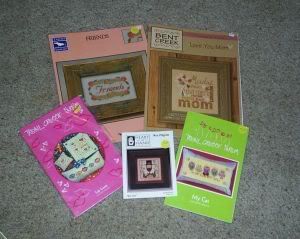 We had a great time, but now it's back to work. I will let you know how it went in Africa when I get back. ;)
Take care!